Royalty Plumbing Blog
Plumbing Articles from Aurora, CO
Take Your Bathroom from Boring to Beautiful: Shower Remodel Ideas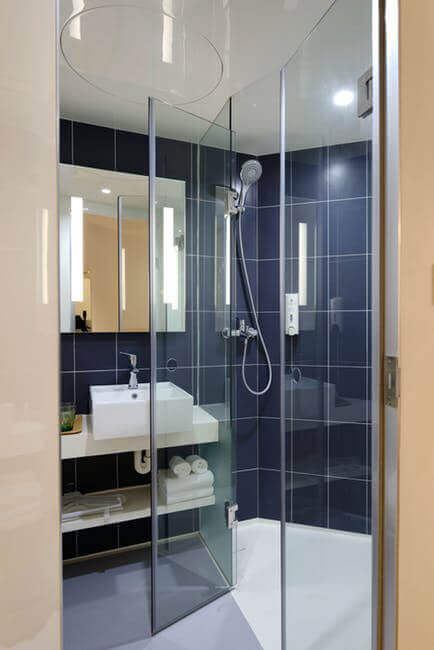 The bathroom is one of the most popular spaces in a home, especially if you have a large family. When you have some money set aside for renovations, a shower remodel could be a smart way to go.
You can improve the look and function of your shower in one fell swoop. With a bit of creativity and an expert contractor, you could improve the bathroom and get a good return on investment in the process.
If you're thinking about a shower remodel, here are some ideas to make it great.
Rain Heads
Instead of the traditional shower head that's angled from the wall, you can have one directly above you to simulate standing in the rain (except warmer). These rain heads are often flush with the shower ceiling to distribute water evenly.
Body Jets
Apart from the overhead rain head, you can also install multiple jets to spray you from head to toe. This ensures even cleaning and may offer some therapeutic benefits too.
Shower Step
Why stand up the whole time in the shower when you can take a seat? Shower seats are a convenient way to take a break while washing your hair. You can also let the water wash over you for a relaxing experience.
No-Slip Floors
There are a few ways to reduce the chance of slipping in your new shower. You can have custom mats made that fit the size and shape of the shower. There's also a special coating you can add to reduce slippage, while some tiles are specifically made to prevent slips.
Considering that slips and falls in bathtubs and showers are the most common related injury, it makes sense to think about reducing the hazard, especially if people using the shower have balance issues.
New Fixtures
You don't have to completely transform your shower to make it look and function better. You can swap out the old fixtures for a more modern look and seamless operation.
For example, if you have tired old knobs for hot and cold, you can trade those for a single control that handles both temperatures as well as shower flow intensity.
Shower Wands
When swapping out the fixtures, you can also consider getting a shower wand to make washing your lower body a little easier. These wands have the showerhead at the end of a long hose that's flexible. You can hang them up when you're done.
Glass Enclosures
You're probably used to having a shower curtain which can tear or be hard to clean after a while.
Instead of dragging a heavy curtain every time you step in or out of the shower, you can opt for an enclosed shower with an easy-to-access glass door. If privacy is a concern, you can have the glass frosted or patterned for lower visibility.
Curved glass variations of enclosures are handy if you need to fit the shower into a corner of the room.
Non-Enclosed Showers
Instead of closing it in, why not open it up? This is the kind of shower you might find at a gym or spa. It flows seamlessly with the rest of the bathroom, with only a single privacy wall separating it from the main area.
This type of shower is easy to access and easy to maintain with no doors or curtains to worry about, but it might not be for everyone.
Recessed Shelving
Do you have one of those hanging shower baskets that look awkward and gets in the way when you're trying to shower? You can create a recessed space on the shower wall allowing you a convenient place to put soap, shampoo, and razors.
Patterned Tiles
This one is not so much functional as it is fashionable. Choose shower tiles that have a bold color to create the feeling of separate space in the bathroom, or go for patterns that match the decor of the room. Don't be afraid to use various colors of tiles to get the look you want.
Dedicated Lighting
Many people rely on the main lighting of the bathroom to light their shower as well. However, nothing is stopping you from installing lighting in the ceiling of your shower too.
You can even choose different LED light colors to create a certain mood. Each color carries its own benefit, whether you want to relax or create some energy to tackle your day.
Shower Speakers
Why not listen to your fave music in the morning to get you going? There are waterproof Bluetooth speakers out there you can easily add to your shower remodel. There are also speaker units built right into showerheads so you can get your karaoke on.
Stone Walls
Tile is very popular for shower walls, but they're not the only option. You can opt for a bit more of a natural look with stone products and stone tiles.
Keep in mind that while you can create a great look with stone in the shower, you'll have to worry about maintenance more than other types of tile as it absorbs a bit of moisture.
Convenient Towel Rack
While not in the shower itself (unless placed creatively as to not get wet during a shower), you can benefit from adding a towel rack right on your shower door for easy access.
Even better than that is a separate electric towel rack that warms your towel up for you.
Let an Expert Handle Your Shower Remodel
If you're updating your bathroom, it's a great opportunity to also update your bathroom showers to complete the project with style. However, there are many components of a shower, from the flooring type to the pipes to consider, so it's wise to leave the work to an experienced contractor.
To find out more bathroom shower ideas and how we can complete an expert shower remodel for you, contact us today.
© 2016-2023 RoyaltyPlumbing.com
– All rights reserved. –
Information on this website may not be re-used without prior written consent from Royalty Plumbing.
Monday-Friday: 8am to 7pm
Saturday & Sunday: Emergencies
Colorado Licensed, Bonded, Insured
Master Plumber License # 180274