Royalty Plumbing Blog
Plumbing Articles from Aurora, CO
Why You Need a Plumber for Your Bathroom or Kitchen Remodel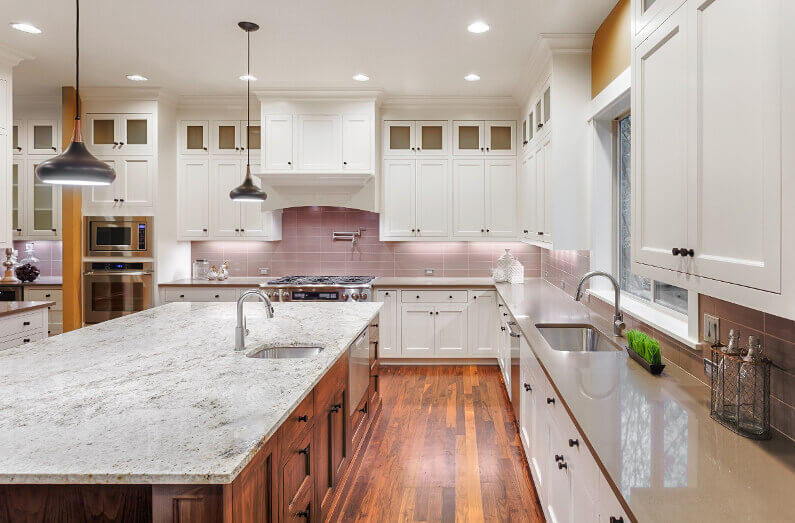 A bathroom or kitchen remodel can be an exciting thing for your home. If you've lived in your home for a while, or you bought a new home that needs some updates, upgrading these key rooms can be just the interior facelift your house needs.
Before you tackle your own plumbing work, consider everything involved with ripping out current fixtures, and reworking a room to fit your needs. Much of the functionality in your kitchen or bathroom revolves around the plumbing.
Before you make a costly mistake, here's why you need to hire professional plumbing services to help with your next remodel project.
1. Demo Can Be Fun (and Wet)
You've probably seen those home improvement television shows where the homeowners grab goggles and a sledgehammer and start tearing the bathroom apart. It looks so fun!
Before the hammers start swinging, a lot of preparation goes into making a bathroom or kitchen safe to demolish. A professional plumber locates and marks pipes and fixtures that could be a significant problem if damaged during demolition.
Your plumber turns off the water main to make sure accidental pipe damage doesn't cause a flood in your home.
Be sure you work with a plumber before you start the demolition phase of your home renovation project.
2. Planning Must Be Practical
You might have some creative ideas for where you want your new toilet and how you want your new waterfall shower to integrate into your whirlpool tub. But is it practical?
Your plumber can tell you if your dream bathroom will work. Planning your new bathroom must work with your space and your existing plumbing. Moving fixtures is possible but only with a professional plumber to help you layout the room.
Your plumber will need to plan to reroute the pipes to accommodate your renovation plans.
3. Follow the Codes
The new bathroom or kitchen in your home must follow all building codes. You don't want a cheap plumber to rig up an unreliable solution.
Your bathroom or kitchen plumbing must be safe and legal. A bad plumbing job can cause significant plumbing issues after completion. Plus, you want dependable and expert plumbing work done, especially for when you want to sell your home.
Trying to save money without a plumber—or with a low-cost plumber—can lead to more expensive problems down the road. Trust a licensed plumber for your remodel.
4. Ensure Quality, Guaranteed Work
When you spend time and money on a kitchen remodeling project, you want to enjoy it long after the work is complete. If any problems come up, you need your contractors to stand by their work and fix any issues.
Every remodeling project has a few glitches along the way. Sometimes, when you begin using your new fixtures in the bathroom or kitchen, things need an adjustment.
A professional plumber guarantees their work. They provide quality work from start to finish. If any problems come up, your licensed plumber will resolve the issue with a quality solution.
Plumbing isn't something just anyone can do well. You don't want to attempt a significant plumbing job yourself or risk shoddy work from a plumber who disappears after they finish—or midway through—the job.
5. Remodel Once
Fixing minor problems along the way is part of any remodeling job. However, when you tear out a kitchen or bathroom for an extensive remodeling project, you only want to do it once.
One of the most frustrating parts of a big remodeling job is finding problems after the work is finished. You don't want to find a significant plumbing issue that comes up after you've completed and paid for your bathroom remodel.
Choose a plumber who will get the job done right the first time.
6. Works Well With Others
Your professional plumber knows they are part of a larger team of professionals working on your remodeling job. Whether you hire your plumbers independently or your project manager has their own plumbers, you want a plumber who works well with others.
A plumber has to understand how the kitchen plumbing works with what the electrician needs to do. Plumbing has to fit with new cabinets, countertops, and anything else you choose for your new kitchen layout and design.
Choose a plumber who knows how to coordinate with the needs of overall project and the other contractors.
7. Knows What Works
Regardless if you have a clear picture of what you want or you require some expert advice along the way, you'll benefit from a plumber who can recommend the best solutions to give you the new bathroom or kitchen you'll love.
A professional plumber has seen and done almost any plumbing situation you could give them. Find a trustworthy plumber who can recommend an alternative that works best with your current plumbing while staying consistent with what you want.
8. Protect Yourself
Plumbing can be dangerous work. Big tools, tight spots, and high-pressured water can lead to injury if you don't know your way around a remodeling project.
A professional, licensed plumber should also have their own liability insurance. Always double check their insurance and qualifications to protect yourself against a lawsuit.
There's No Substitution for Professional Plumbing Services
Most DIY home renovators don't have what they need to handle extensive plumbing for a significant renovation—and that's okay! When you need a successful remodel, there's no substitution for hiring a professional plumbing service.
Royalty Plumbing provides the design and plumbing services you need for kitchen or bathroom remodels. From a small update to a complete renovation, let us help you plan and put together the new kitchen or bathroom of your dreams.
Contact us for licensed and insured plumbing services in the Aurora, Colorado area.
© 2016-2023 RoyaltyPlumbing.com
– All rights reserved. –
Information on this website may not be re-used without prior written consent from Royalty Plumbing.
Monday-Friday: 8am to 7pm
Saturday & Sunday: Emergencies
Colorado Licensed, Bonded, Insured
Master Plumber License # 180274