Royalty Plumbing Blog
Plumbing Articles from Aurora, CO
Common Plumbing Problems Found in New Construction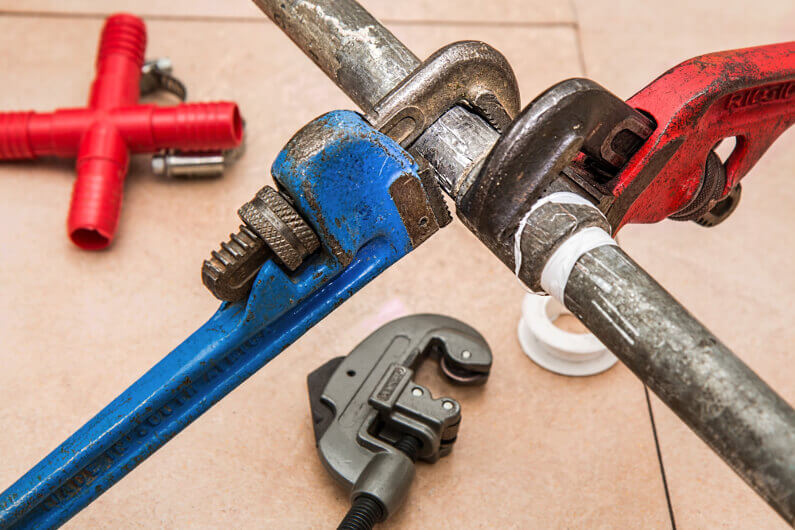 There's nothing like becoming the owner of a newly built home.
You'd assume that having a new home would mean that you won't have to worry about repairs and maintenance for awhile. Everything was just built, so there won't be any problems. Right?
Unfortunately, that line of thinking is often wrong. Problems can creep up in new homes, and that's especially true for plumbing problems.
Plumbing problems should be dealt with immediately because repairs can be costly, and your home warranties may not cover repairs.
If you're moving into a new home, reading this article is important. We're going to tell you about the plumbing problems you may encounter.
Our Top 5 List of New Construction Plumbing Problems
You never know when plumbing problems will strike, even in new homes. Calling a trusted plumber may be needed to fix a problem, but sometimes you don't need to be a plumber to see a problem.
When you move into your new home, be sure to be on the lookout for these common plumbing issues.
1. Clogged Pipes
A clogged pipe or two can be troublesome for a variety of reasons. Unfortunately, they're usually a sign of future plumbing problems to come.
There are a variety of things that could be the cause of your clogged pipes.
It may sound strange, but the environment could be the cause of your problems. There could be strong roots from nearby old trees and bushes that have grown into your pipes.
A far more troublesome and harder to fix problem could be related to the sewers. A shoddy sewer system that's made from cheap materials could be causing problems for everyone on your block.
Sometimes it could just come down to improper installation or neglect from home builders.
This is why it's important to get a thorough inspection before you agree to buy a home. The right inspector could save you a lot of money in the long run.
2. Blocked Drains
A clogged pipe or two is one thing, but blocked drains are quite another matter. If you have problems with clogged pipes, drain blockage issues aren't too far behind.
A variety of substances could be the cause of your blocked drains.
Random debris from construction could be clogging up your drains, so could grease and other leftovers from building the home or property can cause issues.
Blockages are always a problem, but they change from being a nuisance to dangerous when toxic substances are involved. They could be slowly poisoning water and drainage areas in your home
Even if the blockage doesn't result in toxic build-up, a blocked drain can cause a lot of problems. A stagnant build-up of liquid could cause have negative effects on the structural integrity of your home.
A blocked drain could easily release water into your foundation or other important areas of your home.
3. Faulty Water Heater
Sometimes water heating problems can't be fixed by a gas or heating expert. It's possible that your water heating problems may need to be solved by a plumber.
It's easy for water heating problems to creep up on you.
You may start to notice that you keep having to increase the amount of hot water in your morning showers to make them comfortable. You may relight your pilot light when you move in, then notice that you're doing it once a week.
Water heater problems can be difficult. Sometimes the internal thermostat may be faulty. Other times sediment may build up in the tank too quickly and it needs to be properly cleaned.
If you notice a leak in the tank, it's time to call a plumber. They may need to tighten valves or patch a leak.
4. Leaky Faucets
A leaky faucet can happen in nearly any home, regardless of how recently it was built.
A leaky faucet may not look like a huge deal at first glance. But when you take the time to consider other factors, a leaky faucet could easily turn into a plumbing emergency.
Think about how many faucets you have in your house. Now imagine that all of them have sealing problems and leak just a small amount.
Those small few drops of water can really add up as time goes on. Eventually, you could see your water bill go from being reasonable to skyrocketing to several figures.
These costs can get even more worrisome for people that manage commercial properties or apartment buildings. Multiply a leaky kitchen or bathroom faucet by 10 or 20 and you'll truly see how much a "small leak" can cost you.
Don't overlook a drip or two in your property. As soon as you see leaks becoming a problem, it's time to call in a plumber.
5. Running Toilets
You used your toilet a few minutes ago, but you still hear the water running. Don't ignore that problem in newly built homes, it could end up costing you a lot of money.
Running toilets are constantly running water in and out of your home. It's possible that dozens of gallons of water can easily be lost every day.
Luckily, running toilet problems are usually caused by a faulty flapper valve that passes water from the tank to the bowl. If you're feeling confident, you may even be able to fix it after a quick trip to the hardware store.
Get Help
Now that you know about common plumbing problems that could affect your new home, it's time to take action to fix them.
Do you need help fixing your plumbing problems? Would you feel better if you had a professional plumber come to do a full walkthrough of your new home?
We're here to handle any plumbing problems that may happen in your home. Be sure to contact us today so we can get you the help and expertise you need.
© 2016-2023 RoyaltyPlumbing.com
– All rights reserved. –
Information on this website may not be re-used without prior written consent from Royalty Plumbing.
Monday-Friday: 8am to 7pm
Saturday & Sunday: Emergencies
Colorado Licensed, Bonded, Insured
Master Plumber License # 180274