Royalty Plumbing Blog
Plumbing Articles from Aurora, CO
DIY Don't: The Top Plumbing Repairs You Shouldn't DIY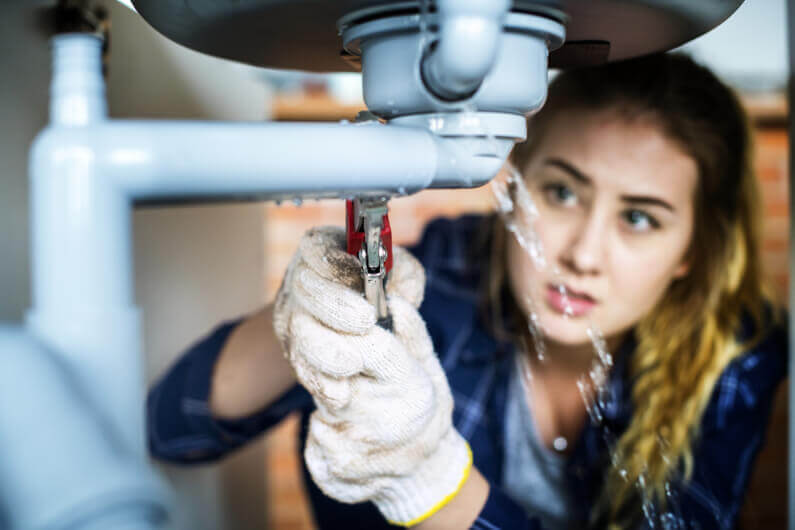 Having issues with your plumbing system? You'll need a solution fast — water can deal thousands of dollars' worth of damage in your home in an instant.
However, hiring a plumber can cost you $45 to $200 per hour on average. This may tempt you to DIY plumbing repairs; YouTube can help you with that, right?
Well, no — attempting to DIY can result in more catastrophic damages to your home and your plumbing system. Changing a shower head is one thing. But when you're dealing with one of the plumbing problems below, call a professional instead.
1. Gas Leaks and Tampering with Gas Lines
Gas leaks are rare, but they're dangerous to human health and to their lives. In the best case scenario, you would be able to recognize the rotten egg smell right away, allowing you to evacuate the house with any living thing inside at once.
The worst case scenario is the occupants get sent to the hospital or the house explodes.
This level of danger is the reason why you shouldn't attempt to fix the issue yourself. Call a plumber certified to deal with natural gas if you're experiencing signs of a gas leak. The same goes for any gas-related issue you may have.
2. Flooding
A blockage in the pipes is often the cause of flooding. This leads people to think that the solution is as simple as taking out the buildup.
However, the clogging might be far down the pipes; in this case, it's inaccessible to a DIYer. If you attempt to reach it, you may damage the pipes while doing so, leading to more flooding (and costlier expenses).
Furthermore, there are other causes of flooding, such as invading tree roots. Dealing with this is hard – or impossible – for an inexperienced homeowner.
3. Drain or Sewer Line Clogs
Another misconception homeowners have is they can fix clogged drains themselves. Drain cleaners are easy to purchase, and they claim to be able to dissolve your worries away. And if plumbing snakes are always available at the hardware store, who can stop you from DIYing?
What the chemicals claim is somewhat true, though, but what they don't tell you is that they dissolve your pipes, too. Snakes can be effective in the short term, but the equipment pros have on-hand is more efficient.
Sewer line clogs are even more complicated to fix. The average homeowner doesn't have access to sewer lines, anyway. These issues require special machinery to fix.
4. Standing Water
Anytime you find standing water in your yard, basement, or other parts of the house, know that you won't likely be able to find the root of the problem.
It can be due to many things: a clogged sewer line, leaky pipes, or even cracks in the foundation. A professional plumber can find the exact cause for you then solve it.
You might not even have the time to figure out the cause as you need to have this issue fixed ASAP. Standing water can cause damage to the environment, to the house, and to your health.
5. Installing Plumbing Appliances
The installation of plumbing appliances can be dangerous. A water heater, for instance, needs you to deal with electricity, 240 volts of it, for installation. Check out our guide here for other reasons why you need a professional.
Any issue with such appliances also needs a professional to look into it. Maintenance can be an extensive process, a single mistake can break the machine.
If you need something installed, looked at, or replaced, only trust a licensed plumber to do it.
6. Modifying the Plumbing System
Want to reroute a plumbing pipe or extend hot water lines? For any changes you're planning to make on your plumbing system, you must first discuss it with a certified plumber.
They will inspect the house to make sure it can accommodate those changes you want. The professional will also see if the modifications will meet the plumbing standards and regulations set by the government and if not, they'll suggest other ways to achieve what you want.
They have the knowledge to deem if the modifications are feasible and to do them the right way.
7. Bad Smells
Bad odor is also another one of those issues wherein problem may lie deeper than what manifests on the surface. It's more often than not caused by the bacteria feeding on the buildup in your pipes. All those substances you flush down the drain can cling to the sides and form a biofilm.
You'll also notice foul odor seeping out if some of the vents in your plumbing system fail.
Whichever the cause, though, you'll likely need to take apart the pipes to clean them. This is a difficult task for a homeowner but an average day for a professional.
8. Frozen Pipes
During the winter months, pipes are vulnerable to freezing, which causes problems like burst pipes and lack of running water. In some cases, you only need to wait for a warmer day to let the pipes that themselves. It's also common to take it upon yourself to use a heat source to thaw the pipes.
However, you need to know that the cycle of freezing and thawing can weaken the pipes. This can make them vulnerable enough to burst.
If you find that you're having this issue too often, you may call a professional for a solution.
9. Any Plumbing Repairs Involving Internal Pipes
If any of your DIY plumbing repairs plans involve any internal pipe, scrap it at once. You will most likely have to dig or open a wall to get to those pipes. These jobs, often involved with remodeling related changes, are better left for professionals who will be careful enough not to do any extra damage.
Call Your Local Trusted Plumbing Services
The plumbing system is tricky to an untrained individual. Often, the problem goes deeper than what's visible to the homeowner. To make sure you get the right solution to your problem, call your local plumbing repairs services.
If you're in Aurora, CO, you're in luck! Contact us for any of your plumbing-related issues.
© 2016-2023 RoyaltyPlumbing.com
– All rights reserved. –
Information on this website may not be re-used without prior written consent from Royalty Plumbing.
Monday-Friday: 8am to 7pm
Saturday & Sunday: Emergencies
Colorado Licensed, Bonded, Insured
Master Plumber License # 180274