Royalty Plumbing Blog
Plumbing Articles from Aurora, CO
This Is What to Do When a Water Pipe Bursts in Your Home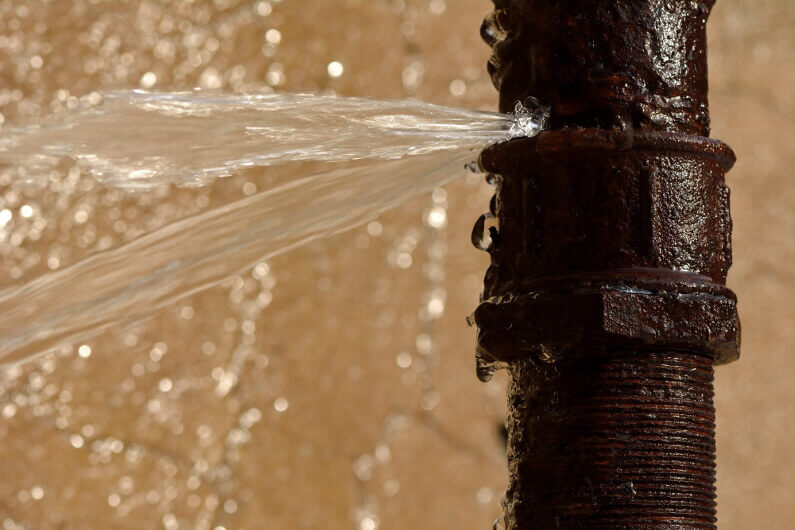 The Colorado cold may be a dream for some, but it can also be a burden on your pipes.
All it takes for your pipes to burst is the water within them to freeze. This is why prevention is so important.
But if your pipes do happen to burst, you should know what to do. It's important to know this so that you can prevent water damage from affecting the rest of your home.
If you want to learn what to do when your water pipe bursts, keep reading.
Why Do Water Pipes Burst?
Freezing is one of the most common reasons for pipes to burst, but there are other causes to know about as well. It happens when the water is sitting still within the pipes. This allows it to freeze up and damage the pipes.
Corrosion is another big cause of bursting pipes. It occurs when the pipes can't handle the water pressure inside.
Clogs can be detrimental to your pipes as well. It can stop the water from moving through the pipe, which builds up pressure. Before you know it, the clogged pipe will burst.
The health of your water pipes is something that you should always pay attention to. If you can keep them healthy, you'll avoid bursting pipes in the future.
When Your Water Pipe Bursts, Turn Off the Main Water Valve
The second you notice that a pipe has burst, you need to get to the main water valve. Shut it off right away, as this will stop the water from flowing through the pipes.
This should always be the first step because it will stop the water from causing any more damage.
If you're not sure where your main valve is, now is a great time to find it! When your pipes burst, it's too late to look for it.
Once you've turned off your main valve, head over to your electrical panel.
You'll want to turn this off so that you can be sure that you're safe from electrical shock. This is especially important if you think any water has reached a socket on your wall.
With the main valve and electrical panel turned off, it's time to move to the next step.
Find the Burst Pipe
Even though the main water valve is off, there will still be some leaking going on from the pipe. By locating the burst, you'll also be able to let the plumber know where the problem is when they arrive.
You should also try to find the pipe so that you can take care of the excess water. Once you locate it, dry up the area as much as you can and use a bucket or pail to catch any water that's still dripping.
Water damage is known to cause other issues such as the growth of mold and mildew.
Keep your eye on this so that you can change out the bucket if needed.
Turn Off Your Faucets
With the main valve turned off and the burst located, you now need to think about your faucets.
Even though the flow of the water has stopped, there's likely still water within the pipes. By turning them on, you're letting the remaining water out and eliminating any pressure that's still inside.
When you do this, make sure to open all the faucets in your house. Turn on both the hot and cold settings.
You can also flush the toilets to get rid of all the remaining water.
Once this is done, you can feel confident that there's no more water left in the pipes.
Call a Plumber
With all the above steps done, you've temporarily stopped the leaking water.
Now it's time to call in the professionals. The plumber will fix up the burst pipe and ensure that everything is working as it should again.
Don't stress if it's the middle of the night — at Royalty Plumbing, we offer emergency service!
Clean Up the Mess
As mentioned earlier, water damage from burst pipes can lead to mold and mildew growth. Mold is known to cause health problems when it's breathed in.
You'll want to clean up any water that's on the floors or walls. Dry up any puddles as much as you can.
Once everything is dry, you should also do some disinfecting. This will ensure that the area is clean.
The faster you can do this, the better. Internal water damage can be difficult to deal with.
Ask Your Plumber About Preventative Measures
Preventing burst pipes is better than dealing with the damages caused by them. Once your plumber has repaired the pipe, you can ask them about how to prevent it in the future.
They might suggest that you do a few things yourself to prevent the pipes from freezing up. A good way to do this is to run the faucets regularly. This keeps the water moving so that it doesn't freeze in one place.
However, there are also some things that you can hire a plumber to do to prevent this.
One thing that they can do is install heat tape around your pipes. This insulates them better so that the water inside has less of a chance to freeze.
They may also recommend changing where the pipes run. This means that the pipes would be moved from colder areas in the home and run through warmer areas.
It's best to speak with your plumber on what the best option for you is. They'll be able to guide you based on cost and your home's individual needs.
Call the Professionals When Your Water Pipe Bursts
Now that you know what to do when a pipe bursts within your home, you're prepared to take the right action. The most important thing to do is to stop the water and call your local plumber.
If you're looking for a plumber in Aurora, Colorado to help when your water pipe bursts, you can trust our professionals at Royalty Plumbing. Give us a call to see how we can help with your water pipes!
© 2016-2023 RoyaltyPlumbing.com
– All rights reserved. –
Information on this website may not be re-used without prior written consent from Royalty Plumbing.
Monday-Friday: 8am to 7pm
Saturday & Sunday: Emergencies
Colorado Licensed, Bonded, Insured
Master Plumber License # 180274