Royalty Plumbing Blog
Plumbing Articles from Aurora, CO
What is the Average Cost of a Bathroom Remodel?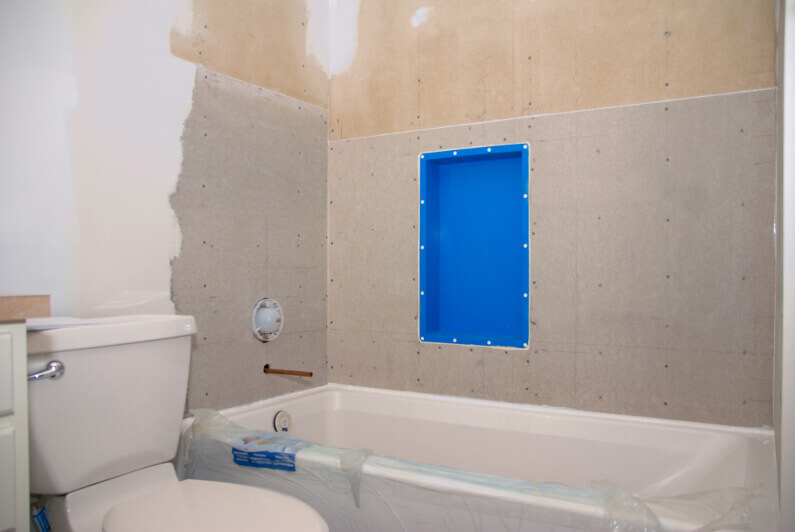 Everyone loves the look and experience of a freshly remodeled bathroom. It's a small space, so it can be done in a short time and many people choose to update their bathrooms regularly.
A bathroom is a small room, so a renovation can be completed in a short time and without too much disruption to the homeowners' lives. Whether you choose to do it yourself or hire a company to do it for you, you can have a new-to-you bathroom to enjoy in no time.
However, it's important to consider the average cost of a bathroom remodel before you begin. The price can vary greatly depending on what you wish to do.
If you only want to paint, retile the floor, and change out the hardware, you can do a lot for a very small investment. However, if you plan to replace the sink, toilet, tub, shower, or relocate any of the plumbing, a remodel can cost thousands of dollars.
Read on to learn about all the factors to consider when remodeling a bathroom, and how much each component might cost you. Then, you can have a better overall understanding of the cost of your dream bathroom remodel before you move forward.
Simple Changes
You can change the overall look of your bathroom with only a few small changes. If you are on a budget, you might consider painting, changing the flooring, or changing the cabinet hardware to make your bathroom feel fresh and new without spending a lot of money.
Paint
Painting a bathroom can make a world of difference. Bathrooms are small so you will only need a gallon or two of paint; if your bathroom is large, you might need three. Paint ranges from $15 to $30 per gallon so if you do the painting yourself this is the cheapest change you can make.
Remember, bathrooms are hot, humid spaces, so be sure to pick the right type of paint for the job. Water-based latex paint is recommended.
Flooring
Again, flooring for a bathroom can be quite inexpensive because the room is the smallest one in the house. There are so many different types of tile available, though, so re-tiling a bathroom floor can get pricey fast. Add in the $10-$15 per square foot it costs to install, and you could end up spending $1,000 or more on the floor alone.
There are ways to save on flooring, however. There are some great affordable tile options available, and you can save a bundle by installing it yourself.
Lighting
High-quality, appropriate lighting can change the look and feel of any space. There are so many different bathroom light fixtures available at a wide range of price points. Budget-minded shoppers can make a big change in a small space with a new light fixture and bulbs.
Hardware
Replacing cabinets can be expensive, but if you have cabinets in your bathroom currently that you don't love, consider changing out the hardware.
There are so many options when it comes to handles and knobs and changing them can give your space an incredible new look at a very low cost. If your tastes aren't too fancy and your bathroom isn't large, you can easily make this change for around $50.
Larger Investments
Although the small changes described above can change your bathroom experience immensely, most people who undertake a bathroom renovation take it a step further.
Vanities can become outdated fast, and showers and tubs also frequently need a do-over. When considering the average cost of a bathroom remodel, the price goes up quite a bit when these items come into play.
Toilet
You might think that all toilets are the same, but that's not the case. Toilets can range in price from $100 to $1000. The price varies due to the type of flush, the amount of water they use, and more.
Most people prefer to have a plumber replace their toilet due to the plumbing and heft involved. The average cost to install a toilet is $371, but it can cost more or less than that depending on the type of toilet you choose.
Vanity and Sink
One area that bathroom remodelers almost always change out is the vanity and the sink. These can look old quickly and can make your bathroom look outdated.
Many fancy options include granite countertops that can cost you a bundle. On the other hand, there are many budget options out there that look great as well.
You can buy a vanity and a sink separately, or you can buy them already assembled as one. Both options have their pros and cons. Either way, you can expect to spend between $75 and $1,500 on this part of your remodel.
Shower and Tub
Perhaps the most expensive part of any bathroom remodel is the shower, tub, and related tiling that is required. While putting a new tub over an existing one is often a cheaper option, many people who remodel their bathrooms choose to start over from scratch.
A new shower and tub can cost many thousands of dollars. Again, the price depends greatly on your budget and taste. On the low end, expect to spend at least $1,500, but it's more likely that your dream shower will cost far more. Some new tub and shower combinations cost as much as $10,000.
When it comes to tiling the bath and shower area, you can expect to pay about $25 per square foot for installation. Some people do tile these areas on their own, but unless you have experience with tile in a wet environment, this is not recommended.
The Average Cost of a Bathroom Remodel
According to the National Kitchen and Bath Association, the average cost of a bathroom remodel is $11,364. However, many people spend far less and others spend far more on their projects. High-end bathroom remodels can cost $20,000 or more; a very budget remodel may only cost a tenth of that.
The amount you spend on your bathroom remodel is up to you. It's best to begin your planning by determining your budget and then work backward from there. It's easy to get carried away by all the available options, but you can create a beautiful bathroom environment with the right mindset and a firm budget as well. Good luck!
We would love to help you with your bathroom remodel. We have been serving Aurora, Colorado for twenty-five years and love using our experience to help our customers get the finished product they desire. Give us a call today!
© 2016-2022 RoyaltyPlumbing.com
– All rights reserved. –
Information on this website may not be re-used without prior written consent from Royalty Plumbing.
Monday-Friday: 8am to 7pm
Saturday & Sunday: Emergencies
Colorado Licensed, Bonded, Insured
Master Plumber License # 180274